Food Basket Program
Thank you to all who participated in the 2016 Sacred Heart basket program! Without the many Knights that contributed money to the basket fund and shoe fund, delivered baskets, helped in getting and distributing the food from Project Hope and gave presents from the Angel Tree, we could not help our neighbors in need. A special thank you to those Knights that volunteered to deliver a basket. We had many volunteers this year. I tried to make sure everyone had he opportunity to deliver at least one basket. If I missed you I'm sorry and if you volunteer again I will try to include you for a delivery. These are a few interesting statistics:
- During the 2016 calendar year we delivered 36 baskets at Easter, 28 during the summer, 48 at Thanksgiving and 52 at Christmas for a total of 164 baskets.
- The families receiving the 164 baskets included 437 children and a total of 579 people helped.
- We received $10,050 in donations to the basket fund during 2016 and $1,478 in donations to the Village Outreach shoe fund.
- At Christmas we gave 456 presents, most of which were from the Angel Tree,and 127 shoe certificates to the children in the families receiving baskets.
- Approximately 91 volunteers delivered the baskets, many of whom delivered multiple baskets.
Thanks again for all of your support and we look forward to continuing to spread the Gospel of Christ by our actions in endeavors such as these.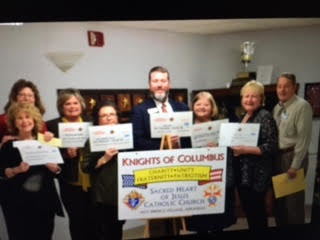 2017 Charity Recipients
Brother Knights, charity is the sword, with prayer the shield of the Knights of Columbus. What we do is not of ourselves, or for ourselves, but turns our faith into action for the benefit of our brothers and sisters. At the December Council Meeting, we celebrated actions turned into charity!
At this meeting $32,700 of funds raised by this Council were distributed to support faith-based initiatives. This includes our schools, hospitals, and very own community service organizations working within our area.
Some of the $26,000 raised during our Campaign for People with Intellectual Disabilities was presented; $7,100 will be withheld until the Arkansas Blind Camp and the Special Olympics events take place in the spring.
Revenue generated by the parish-wide efforts of our bi-annual Treasure Sale, augmented by Council 10208 monies were presented to our local parochial schools. Other funds that were presented came from parish breakfasts, dinners, and other fund-raisers. Well done Brothers, as we in our own small way try to mimic the love of Christ through these corporal works of Mercy!
Honoring Our Fallen Knights
On November 2, 2016 we celebrated the lives of four Brother Knights and six Sir Knights who left this world to be ushered into the arms of Christ. It was a truly moving service celebrated by state chaplain Father Bill Elser and con-celebrated by Sir Knight Father Mike Hinken and Monsignor Bernard Malone.
We will always remember the contributions to our Council, Assembly, Parish, and community of Sir Knight Jim Ashley; Sir Knight Ray Curry; Sir Knight William Herbert; Sir Knight Joseph Janus; Sir Knight Bud Osmun; Sir Knight Father Raymond Rossi; Brother Knight Rodger Bresnahan; Brother Knight Danny Celestin; Brother Knight Jim Elder; and Brother Knight Dick Palinko. May these men reap the final reward of all the good they sowed while on this earth.
Each fallen Knight was represented with a carnation added to a bouquet by members of the Assembly 2316 Honor Guard. Each Knight's name was read by our worthy Grand Knight, Tom Donnelly. Music was provided by Buddy Dixon, Maureen Morgan, Diane Patterson, Lynne Border, and Steve Fetcko.
After the Mass, an amazing meal was provided by Johanna and her staff. It was a night that we will always remember, and for me, the highlight of the Fraternal year.
Saint Pope John Paul II
God is always on the side of the suffering. His omnipotence is manifested precisely in the fact that he freely accepted suffering. He could have chosen not to do so. He could have chosen to demonstrate his omnipotence even at the moment of the Crucifixion. In fact, it was proposed to him:
"Let the Messiah, the King of Israel come down now from the cross that we may see and believe." (Mark 15.32)
But he did not accept that challenge. The fact that he stayed on the Cross until the end, the fact that on the Cross he could say, as do all who suffer,
"My God, my God, why have you forsaken me?" (Mark 15.34)
If the agony on the Cross had not happened, the truth that God is Love would have been unfounded. Yes! God is Love and precisely for this he gave his Son, to reveal himself completely as Love. Christ is the One who "loved...to the end." (John 13.1) "To the end" means to the last breath.
New Beginnings Pregnancy Center
On September 30, 2016 Knights of Columbus Council 10208 in Hot Springs Village joined New Beginnings Pregnancy Resource Center in a Ribbon Cutting ceremony at their state of the srt new building. We all came together to celebrate the Purchase of their new Ultrasound equipment. This purchase has been made possible through the generosity of many Knights of Columbus, New Beginnings and other pro-life supporters who have contributed to the "Baby Bottle Campaign" conducted by Knights of Columbus Council 10208.
Attending the Ribbon Cutting from Council 10208 were Past Grand Knights Dave Johnston and Bob Honzik as well as Jim Dyar and Jim Goodson, Pro-Life Director. Kim Puska, Director at New Beginnings Pregnancy Resource Center states that she and her staff and volunteers are very excited, knowing that this Ultrasound will result in saving many babies from abortion. Bob Honzik stated that he could feel their excitement while he was there. Also attending the Ribbon Cutting were Dr. Livers, Medical Diorector at New Beginnings, many of the Center's volunteers and staff and a few of the contractors who helped make this all possible with the volunteer hours and materials.