Bill and Mary Lou George - September 2017 Family of the Month
Our family of the Month is the Georges, Brother Bill and Mary Lou. There are many Knight's and their ladies constantly serving this Council in countless ways. Sometimes we need to stop and consider their tremendous value to our Council and to let them know how much we appreciate their efforts. They are our "go to" folks, always willing to pitch in and help with whatever activity is at hand and requiring volunteerism.
Bill participates in the Campaign for People with Intellectual Disabilities, he's active in the Men's Club, ushers at the 8:00 AM Sunday Masses, and serves as our Council's Community Director overseeing 16 venues and most revenue generating events. There are so many Parish Life, Knight, LOSH and other events Bill and Mary Lou participate in, I can't begin to list them all without omitting some.
Brothers and Sisters, it is a pleasure to recognize the Georges for their long-standing support of our Council, our parish, and to recognize them as an exemplary family of the month for September.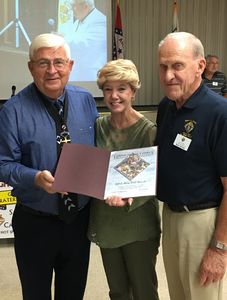 Bob and Mary Anne Honzik
Sir Knight Robert and Mary Anne Honzik. Brother Honzik was the Chairperson for the Seminarian Support Dinner; Mary Anne procured, prepared, organized, and headed the decoration detail that did such a splendid color-coordinated and beautiful set up of the tables and the hall. Bob and Mary Anne's efforts in planning and overseeing the detailed invitations and close coordination required to get the Bishop, Monsignors, and seminarians on the same sheet of music in the same place at the same time was phenomenal. They also were responsible for arranging the entertainment, caterer, menu, ticket printing, poster printing, bulletin announcements, coordination within the parish and with the chaplain, recruiting reliable folks to take on some of the burden, and overseeing each aspect necessary to pull something like this together. What an effort and what a fabulous outcome for our seminarians. Collectively, the Council raised nearly $30,000 at this event (slightly augmented by funds on hand), enabling us to present a check to the Bishop for $25,000, with another $5,000 going directly to the Diocese of Little Rock, and the parish presented another $30,000 to the Bishop.
Terry and Jo Ann OBrien

We are proud to announce our July, 2017 Family of the Month is Terry and JoAnne O'Brien. When it comes to decorating, setting up for events, arranging center pieces, setting tables, putting on chair covers, laundering table and chair linens, assisting with the deserts, and a plethora of other tasks so necessary to make events a success, you'll always find the O'Brien's in the thick of things.
Terry is a former Mardi Gras chairman, worked the kitchen for Council Meetings for many years, is active on the Disaster Relief Team, participates in perpetual adoration, attends and is active in both the 3
rd
and 4
th
Degree, a member of the Men's Club, and helps and has served many parish committees.
JoAnne has been on the Church Decorating Committee for many years, a 5 time St. Monica Guild Captain, a 5-year Chairperson of the LOSH Annual Fashion Show, a 4-year Chairperson of the Christmas Cookie Sales, headed the Parish Life Committee for 2 years, is a former vice president and president of the Ladies of the Sacred Heart, and her words to me: "I love to help wherever needed." What a wonderful couple and wonderful family!