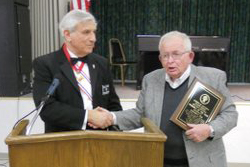 Arkansas Master Russell Anzalone (l) presents the award to Faithful Navigator Bill Welch.
Assembly 2316 was recognized as 2012-2013 Assembly of the Year for the Bienville Province which includes Alabama, Arkansas, Louisiana, Mississippi, and Tennessee. Arkansas State Master Russell Anzalone made the presentation at the Assembly's Valentines dinner with spouses and widows on February 14 at Sacred Heart of Jesus Church. Accepting the award was current Faithful Navigator Bill Welch for last year's Faithful Navigator, Ed Miller, who had submitted the application, but was unable to attend.
The award is presented annually as a tribute to the spirit of patriotism and national pride exemplified in the patriotic activities conducted by Fourth Degree Assemblies that conduct a minimum of four different patriotic programs during the fraternal year.
The patriotic activities in which Assembly 2316 was engaged during the 2012-2013 fraternal year included: 1) placing 80 flags around the Sacred Heart of Jesus Church campus on national holidays; 2) providing flags at no cost to eight Village golf courses and four fire stations as well as to the Catholic church; 3) hosting the Village Flag Day commemorative event on June 14; and, 4) assisting the vets at St Francis House in Little Rock by providing on-site meals, coordinating social events, and collecting clothing, personal items, and furniture for their use.
Coordinated by Jack and pat Widlowski, the dinner was attended by 80 sir knights, spouses, and guests, including 13 widows. Russ Anzalone was accompanied by his wife, Rosemarie. Larry Linteau provided background music on his keyboard. The evening began with a social hour at 5:00pm with donation refreshment center available. The dinner @ $12.50 per person was catered by Home Plate at 6:00pm, and the menu included Caesar salad, rolls, open-face roast beef sandwiches, mashed potatoes with gravy, dessert, and coffee.
View pictures of the evening by clicking
Photos.